In our previous post, we briefly covered the Social Selling Success Triangle, and the model that ensures results. Since success from social selling is completely dependant on this model, we thought it would be helpful to discuss it in more detail for our readers.
Our research and experience in training sales professionals in social selling have uncovered 3 key activity areas for a successful social-based prospecting and revenue generation program. They consist of 3 daily activities that must be performed consistently in order for a successful social selling program to get and maintain traction. If you want a deeper understanding, and a complete list of the Social KPIs that FunnelAmpliifed captures and provides for CRM, click here.
The 3 Most Important Activities In Social Selling
It is important to understand that FunnelAmplified provides the easiest and most thorough social selling technology and training program for individual sales professionals and sales teams. Following is the results of our research and the capabilities and processes behind our platform, as well as our training. You will clearly see how we help sales teams amplify their sales revenue, reach, and results.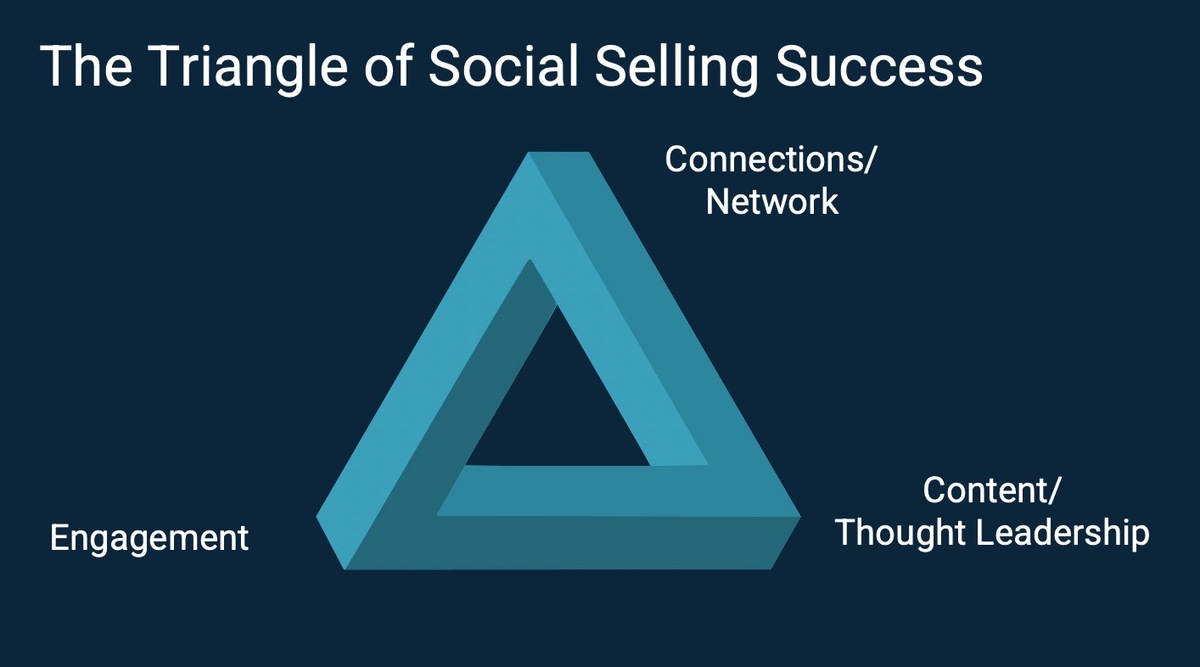 1) Social Selling – Connections
In order to make social selling effective, sales professionals must consistently expand their digital network with strategic focus and consistent messaging. Whether your team is structured with an ABM model or geographic regional territories, sales professionals need to strategically and consistently send out connection requests to the right contacts and analyze invite messages that create the highest acceptance rates.
Our "Connect" feature in FunnelAmplified helps create targeted contact lists and automates connection request sends to make this process significantly more efficient. The function also tracks the connection requests that have been sent, who accepted, what company connections they are with, their title, and a lot more. Remember, when attempting to grow your target audience, it is all about the data and using it to make informed and effective actions. That's just ONE thing we do to help your sales team drive sales online.
If a salesperson has a small online network or the incorrect contacts of prospective customers, their online activity can't be effective and get results. To make online connections powerful, salespeople need to consistently expand their network with the right prospective customers, industry partners, industry influencers, and other champions that can help them meet new people, expand their reach and grow their influence.
Our solution leads sales professionals through the needed daily and weekly connection request requirements, follow-up cadences to make it effective and trackable. We capture all of the data surrounding these activities and automate the outcomes and analytics right into CRM records for you. Now you can review reports and measure the results of the activity led by the system for each salesperson on the team.
2) Social Selling – Thought Leadership
Thought leadership is developed through content online. Buyers want to engage with trusted advisors who help them with their challenges. They want to invest time with those who will help them understand their challenges better, and provide solutions to those problems so that they can make good decisions. Buyers don't want salespeople who just have "commission breath" and are just focused on their selfish goals and sales results, but someone that provides selfless value and provides genuine assistance.
To demonstrate thought leadership and provide valuable insights that capture prospective buyers' attention, sales professionals must create, share and promote content daily. But, it's not just any content.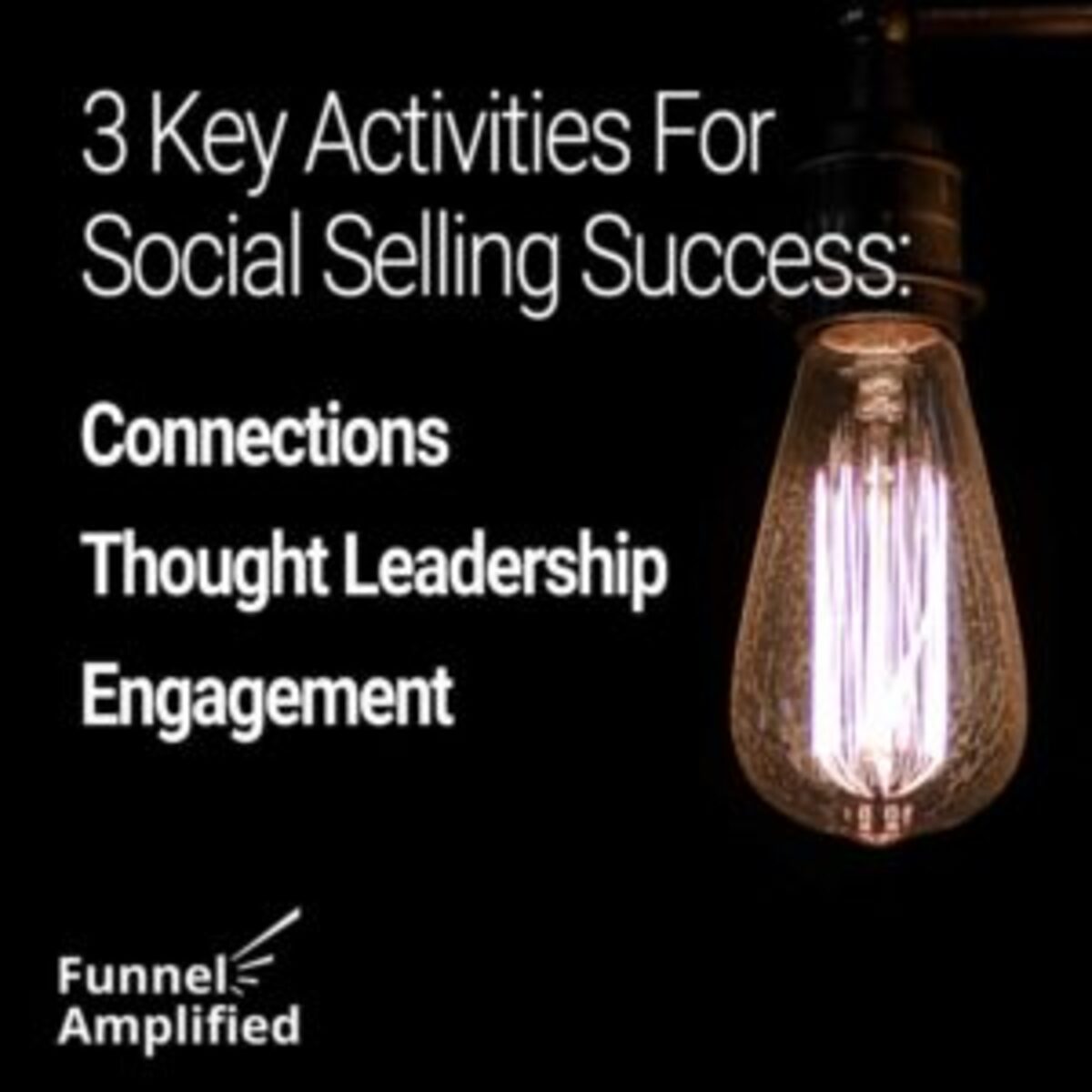 Brochure-style content has been proven to be ineffective on social media. It has the lowest engagement rate and has the lowest click-through rates of all of the variations of social posting. Why? No one wants to read brochure materials that may or may not be perceived as beneficial to their situation. Buyers want real, meaningful content and insights that speak to their circumstances.
The Benefits
So to be effective, salespeople need to publish daily to consistently demonstrate and share what we know, who we help, and the value that they provide. That is a story that needs telling and corporate brand brochure information can't convey that message as a human that can help.
But doing this function consistently and with the right content is just challenging for most. FunnelAmplified helps teams do this across their social accounts simply and consistently.
3) Social Selling – Engagement
Some will argue, and I am one of them, that engagement is the most important social selling activity for all sales professionals and business leaders. Even though the tendency for many is to believe that we don't have the time to do it. But, the value of engaging with ideal customers and specific, strategic prospective customers is more valuable than voice messages and flurries of emails that don't get responses.
Engagement is an activity that helps sales professionals be seen and be known in their industry. When you publish content, it is good. But, it doesn't mean enough people see it. When you engage with your connections, you are seen more by them and their contacts, increasing your exposure and perceived thought leadership.
The Benefits
Creating a strategic list of prospective customers and following a cadence of engaging with those contacts' social posts, results in significant benefits. Engaging with other people's posts OR with posts that they have engaged with, they see us. This impacts their view of us and establishes many more situations for conversations that build relationships. Furthermore, doing this activity can leverage the social network algorithms to increase your content reach toward those you engage with and engage with you.
It may sound a little trivial but it is an important element to gaining connections, getting invitations for a conversation accepted, and being a known person to your prospects and an influencer in your industry. When you strategically engage with prospective buyers it dramatically increases the speed to having conversations and the quality of conversations. Conversations lead to sales, but only the right conversations that are done properly.
Now that we have defined and detailed the most important activities that are required to make social selling effective and some of the ways that FunnelAmplified helps automate, measure, track and amplify the results of these activities, maybe it's time to see how we can help you and your team.
Want to understand Measuring Social Selling KPIs? Click Here